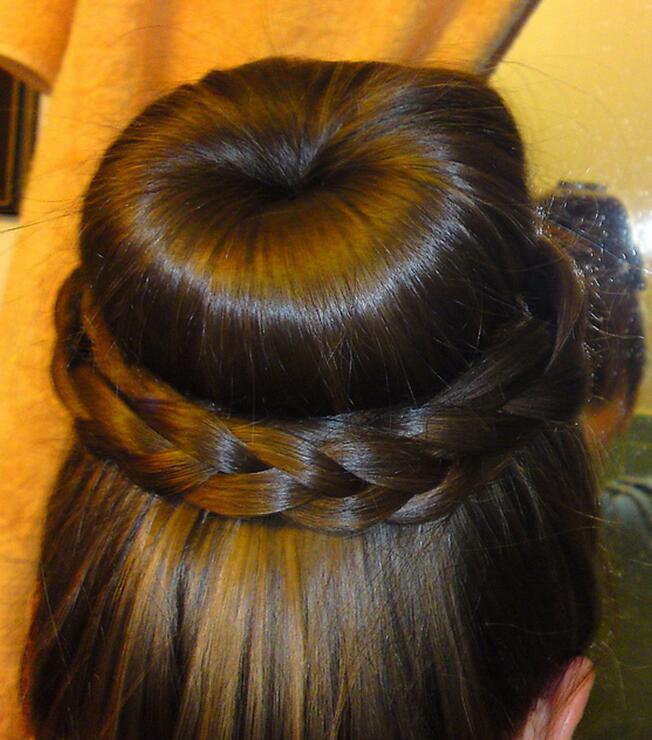 Sock bun updo is gaining a lot of popularity recently, mainly because it is so easy to make and its classy look takes you back to 1950s or 60s when hairstyles were immaculate, feminine and chic. It might come as a shocking news to you that socks can be used to create a stylish hairdo, but this is no joke. Sock buns can be worn as hairstyles for elegant parties, proms or even updos for bridesmaids. You just need to remember about few things when you're making this updo.
First of all you need to familiarize yourself with the preparation process, which starts from making your own sock donut. As you have probably guessed, its name comes from the shape. Take a sock, cut the toe out and roll it. That is the sock donut. Remember to always pick a sock in a similar to your current hair color. Only then the sock will blend with the rest of your hair in such way that no one will notice you are wearing something in your hair.
Make a ponytail at the back of your head, at the crown of the head or in the middle. Pull your hair through the hole of sock donut and cover it with hair from the ponytail, trying to put them all around the donut. Take an elastic band and place it at the bottom of the donut, securing the bun. Now you should be able to see the bun, which replicates the shape of sock donut, but is made of your hair.
For the rest of the hair in the ponytail you can either twist them around the bun or braid first and then twist, using bobby pins to secure it. You can also start making the bun from the end of the ponytail, instead of the base, twisting your hair around the sock donut as you move towards the scalp. It will make your bun bigger and better secured, with no fly-aways coming out of it. Unfortunately this technique is more difficult and you will probably need a few dry runs to check it out.